A cabbit is a fictional hybrid between a cat and a rabbit. They have appeared in fiction and fantasy stories including Japanese anime and manga, and have also been dubiously purported to have been observed in the wild. Most if not all observations are attributable to either misidentified Manx cats or outright hoaxes.
Do cabbits exist?
Many people consider such hybrids impossible, but it's not as if evidence of their existence were lacking.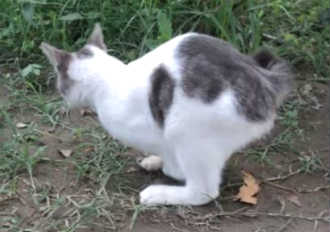 Note the extreme similarity of the back half of this animal to a rabbit. And yet, as the video shows, its front half looks exactly like a cat. Is it a cabbit?
Not surprisingly, many have rejected, or even ridiculed, claims that cabbits exist. Thus, naturalist Francis T.Buckland,  believed all purported hybrids of this type to be "Manx cats with birth defects,". "To Mr. [Abraham Dee] Bartlett, are brought sometimes supposed hybrids between a cat and a rabbit. Our friend says a cat with a short tail will not prove the argument. He wants a rabbit with a long tail.
On the other hand, there are many, often vehement claims that cabbits are real. For example, Sarah Hartwell, who wrote an article arguing that cabbits are impossible, quoted the following from an email she received from a cabbit proponent: "I just read your article on your web page and have to tell you that you are full of crap. Cabbits are real, I have had them and bred them and they are abundant in Ontario.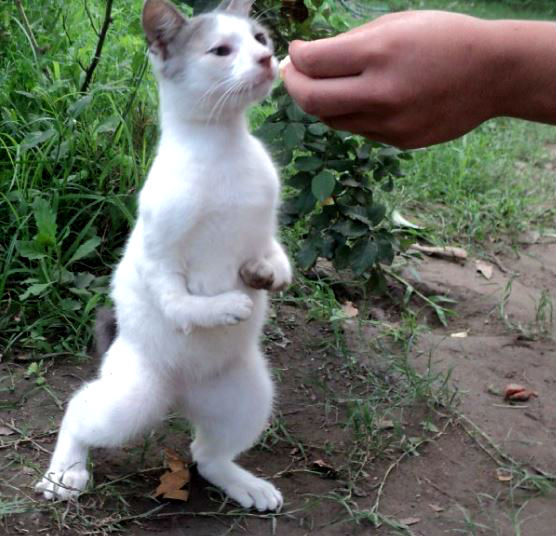 Thus, it seems that both sides of this debate view their opponents as ignorant, and intentionally dishonest. Originally, I myself dismissed the idea that such a distant hybrid might be possible. However, after seeing many of the videos on Youtube showing what appear to be living cabbits (quite a few of which can be seen here), I now wonder. I'd like to see some of these animals genetically tested, but no one with the proper laboratory facilities has chosen to do so.
Why do some people say cabbies are impossible?
Mrs. Norm Weiler of St. Petersburg, Fla., has a new pet, but she's not sure what it is. The animal has the head and shoulders of a cat, and the body of a rabbit, while its voice half growls half meows. Mrs. Weiler, who adopted the creature when it wandered into her yard recently, calls her new pet "Cabbit." She says it hates fish, loves cabbage, and roast veal.
1. Chromosomes
One reason people often cite for the impossibility of producing cabbits is that rabbits and cats have different chromosome numbers (2n=44 and 2n=38, respectively) and that they therefore cannot produce hybrids together. This claim, however, is not consistent with the fact that well-documented hybrids are known from many other types of mammalian crosses where the parents differ even more with respect to chromosome number than do a cat and a rabbit. Numerous cases of this sort are documented on this website. A few examples, among many, are:
The chromosome counts of sheep and goats differ by exactly six, just as do cats and rabbits, but it is well known that they occasionally produce hybrids.
2. Gestation period
A second argument is that the gestation period of a cat is a month longer than that of a rabbit.  (64 and 31 days, respectively), which is somehow supposed to make hybrids impossible. On the other hand, The domestic pig has a gestation period of 115 days, whereas that of the babirusa averages 153, a difference of 33 percent. This is about the same, then, as that between dolphins and false killer whales (34%). And yet, they produce hybrids. So it seems this claim about differences in gestation period lengths preventing hybridization is just an old wive's tale, repeated by scientists and non-scientists alike.
3. Genetic "distance."
A third is that they are too "different genetically" to produce hybrids. But every hybrid cross involves parents that are genetically different and the exact amount of genetic difference that precludes a hybrid cross is unknown, as is the nature of such differences. (I say this as a Ph.D. in genetics who has spent years researching hybrids.)
"Difference." A fourth is that they are too different in terms of their anatomy or in terms of evolutionary relationships to produce a hybrid. But the parents in a hybrid cross typically differ in anatomy, and it is not known just how different two animals can be in terms of their anatomy and still produce a hybrid. As to evolutionary relationship, in that case too, it is unknown how distantly related two hybridizing animals can be. (But perhaps the present case, that of cat-rabbit hybrids, gives us a clue?)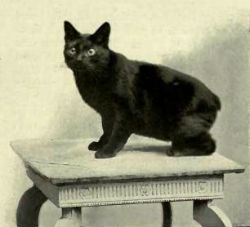 4.Fertility
In the case of this specific cross, some people point to the fact that Manx cats not only produce offspring but are a recognized breed. Since hybrids are sterile, they say, the Manx cannot be a hybrid.  However, this argument draws conclusions from false premises. Many hybrid crosses (documented elsewhere on this website) produce fertile, or at least partially fertile, offspring. And many fertile domestic breeds are known to be the products of hybridization. So there really is no reason to conclude on such a basis that Manx cats cannot be cat-rabbit hybrids.
5. The "Manx gene."
Indeed, Manxes are not as fertile as ordinary cats. It is well-known that they produce a high percentage of inviable offspring, which is characteristic of hybrids. This high rate of inviability is attributed to the "Manx gene." I have not found—and I challenge anyone else to find—any formal study characterizing this gene, or even mapping it to a particular chromosome.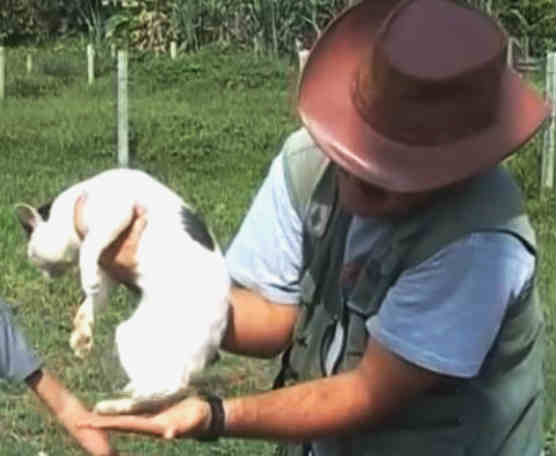 Conclusion.
So it's true, one can suppose that Manx cats are the product of mutation and that they do not have any rabbit ancestry. But if one does make such an assumption, one must also suppose that that mutation (or series of mutations) happened to make the posterior half of the Manx look just like the posterior half of a rabbit, the little tail, the long, hopping legs, even the blunt, non-retractile claws. One must also assume that mutation is the reason that Manxes like to eat such things as carrots, lettuce, and grass. . And one must assume that some professional breeder would be able to select, with time, from the descendants of an ordinary cat, hind features that appear identical to a rabbit through some unknown genetic change.
Interested in animals! See other articles from our animal category.